Vietnam is expected to become the third largest startup and innovation hub in Southeast Asia, only after Singapore and Indonesia in 2022, according to the Southeast Asia Startup Ecosystem 2.0 report by Golden Gate Ventures. This projection is relevant to the current investment landscape of Vietnam when 2021 witnessed a lion's share of capital (over $1.3 billion) poured into the startup ecosystem which is fourfold compared to the 2020's figure. The 5 sectors that attract the most amount of funds are Fintech, E-commerce, Edtech, Medtech and SaaS. This article aims to give an overview of the Investment landscape in Vietnam, current attractive sectors, as well as what investors should expect in 2022 and the drivers of that.
I. OVERVIEW OF VIETNAM'S INVESTMENT LANDSCAPE
According to the National Agency for Technology Entrepreneurship and Commercialization Development, Vietnamese startups attracted investments of over $1.3 billion in 2021, four times the previous year's figure.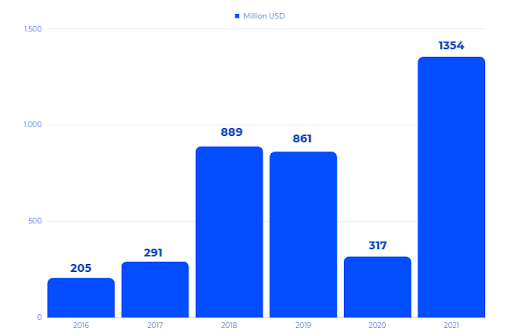 Figure 1: Investment in Vietnam startups 2021 (Reproduced from VNExpress 2021)
Currently, there are over 3,800 startups in Vietnam's startup ecosystem, including 4 unicorns (VNG, VNLife, MoMo, Sky Mavis), 11 valued at more than $100 million startups (Tiki, Topica Edtech…) (Nextrans 2021).
Deal by Type:
According to the Vietnam Industry Report by Nextrans 2021, the most popular deal types are Seed (42.3%), Series A (19.6%) and Pre-seed (13.4%) with capital value ranging from $500,000 to $3 million. Although higher value deals like series C, D, E only account for 4.1% of the total deal amount in 2021, they are expected to increase in 2022 showing the potential of Vietnamese startups to boom in the upcoming years.
Figure 2: Investment Deals by Type (Reproduced from Nextrans 2021)
Deals by Investor Country:
Vietnam's start-up market is also the preferred destination for 208 active venture capital funds, of which there are nearly 40 domestic investment funds. Active funds from both local and foreign ventures in the market include VSV Capital – Nextrans, Vietnam Silicon Valley, Mekong Capital, 500 Start-up Vietnam, Vietnam Investment Group, IDG Ventures Vietnam, Do Ventures and Genesia Ventures. 
Looking at all deals recorded in 2021, it can be clearly seen that foreign venture capitals are more active than local ones with 5 most notable deals of the year 2021 (Tiki, VNLife, Momo, SkyMavis, EQuest) belong to foreign investors. The deal records also show the transition in the 3 top active countries investing in Vietnam. In 2020, Korea was ranked with the highest investment in Vietnam, followed by Singapore and Japan respectively (Do Venture 2020). However, in 2021, Singapore took the lead in investment; Korea lowered itself at 2nd position, and 3rd position belonged to Japan.
Local ventures and enterprises do have some good deals, just not as valuable as the ones made by foreign investors. 3 most notable investment deals made by local ventures or enterprises are: VNG with 22.5 mil USD of investment into Telio, Mekong Enterprise Fund IV with 10 mil USD into Rever and the third place belongs to the shared deal led by Genesia Ventures with the participation of JAFCO Asia, Trihill Capital and former Affirm (Xffirmers) senior manager Pham Le Nhat Quang, as well as from current investors including 1982 Ventures, Zone Startups Ventures and other angel investors that invested $1.8 million into Fundiin (CafeBiz 2021). 
Figure 3: Startups with biggest funding in 2021 (Reproduced from VnExpress 2021)
According to Pham Hong Quat – Head of the National Agency for Technology Entrepreneurship and Commercialisation Development, Vietnamese startups currently depend too much on foreign capital (VNA 2022). Data shows that investment in Vietnamese startups hit a record high of over 1.3 billion USD in 2021 and a majority of the funding came from foreign ventures. On an annual basis, only about 100 out of 3800 startups were able to raise funds. Domestic resources, though abundant, have not been unleashed, Quat said, urging that Vietnamese high-performing corporations will better engage in innovation and tech startup projects in the country. 
Deals by Industry/Sector:
In 2021, five most funded sectors are Fintech (26.6%), E-commerce (20.3%), Edtech (17.2%), Medtech (7.8%) and SaaS (6.3%). By number of deals, Fintech is the leading industry with 26,6% of total deal count belonging to Fintech sectors like digital payment, personal finance, POS, SMEs financing,… as well as having 2 out of 4 current unicorns in the Fintech field.
Figure 4: Investment Deals by Industries 2021 (Reproduced from Nextrans 2021)
II. OVERVIEW OF LEADING SECTORS IN 2021 
According to a report by Nextrans (2021), with the investment landscape of 2021, it can be observed that the 5 most dominant and leading sectors of the whole economy are Fintech, E-commerce, Edtech. Healthcare and Software as a service (Saas). If you want to know more about each segment including the Market overview, Current players in the segment, Opportunities and Challenges faced by each segment, etc, you can read the series of Why Vietnam articles published on InnoLab Asia. 
Fintech
Growth drivers for the Fintech sector are: a large percentage of potential tech savvy users, a positive start-up investment and community, an increasingly supportive legal framework, and a strong enabling environment. Besides, Fintech also benefits from the growth of retail or E-commerce when consumers begin to favor digital payments (Google, Temasek & Bain 2021).
Market overview
Compared to other SEA nations, in 2021, Vietnam ranked 3rd (11%) in total deal value and ranked 4th in deal count. From only 39 startups in 2015, the number increased substantially to up to more than 150 companies in 2021, which shows the potential of the field. 

Digital payment segment still accounts for the largest share in the Fintech sector. However, P2P lending and Crypto/Blockchain are the two rising stars with the strongest growth. 

3 most notable startup deals in the Fintech segment are

Momo, VNPAY, Infina

.
E-commerce
Growth drivers for the Fintech sector are the fast-growing internet economy, increased online purchases, and favorable government legislation. COVID-19 pandemic is the accelerator for this expansion of E-commerce. 
Market overview
In ASEAN, Vietnam is amongst the top three countries for highest retail growth, behind only Indonesia. The e-commerce sales of Vietnam is predicted to expand by 80% year over year and fivefold in the next 5 years. Vietnam also has the largest expected growth in online retail GMV among Southeast Asian countries, at 4.5x between 2021 and 2026, while total SEA GMV is expected to quadruple in the following 5 years.

B2C is a concentrated segment with 86% belonging to 3 top E-commerce platforms: Shopee, Lazada and Tiki. Hence, the B2B market emerges as a more potential market to enter for most startups (including 2 of the 3 most notable deals – Telio and Kilo)

3 most notable startup deals in the E-commerce industry are

Tiki, Telio and Kilo

.
Edtech
Growth drivers for Edtech are: a rapidly growing young middle class, a high priority for education, and the proactiveness of the Government in attracting foreign investment. COVID-19 pandemic is the accelerator for this expansion of Edtech. 
Market Overview
Young middle class:

There are 24 million pupils and students in Vietnam, more than 90% of these use mobile phones, computers, or laptops to study and quickly catch up with new technology trends. Besides, the young labor force always actively reskill and upskill themselves in order to meet the requirements of the job market. 

High priority for education:

According to Bain & Company, the average Vietnamese family spends about 20% of their  disposable income on education for their children, compared with 6-15% in other Southeast Asian countries. 

Proactiveness of the Government:

The Vietnamese government also supports Edtech with a long-term orientation for education: In July 2021, the Vietnamese government set a target of bringing online training to 90% of universities and 80% of high schools and vocational institutions by 2030.

4 segments in Edtech are:

content (pre-recorded lessons in the form of videos or exam banks); live-class (online class with a teacher, can be one-on-one or in groups); OMO (model online combined offline); B2B (process management solution for schools or educational institutions). In the first stage, Vietnam's edtech market started from content and is starting to

move into the live-class segment (Bao Dau Tu 2021).

According to statistics of Tracxn 2019 organization, there are currently 109 startup organizations operating in the Edtech market with different segmented objects in Vietnam.

3 most notable startup deals in the EdTech sector are

EQuest, ELSA, and Coderschool

.

(Dan Tri 2021)

. 
Medtech
Although currently being at the early stage of development, we could certainly expect a leapfrogging pace of growth for Medtech in the near future. Growth drivers for Medtech are: rapid change in  demand for healthcare services, positive support from the Government and the outstanding impacts technology could bring in to alleviate current problems in conventional healthcare markets.
Market Overview:
Health expenditure in Vietnam amounted to $15.4 billion in 2020, equivalent to 5.7% of total GDP in which the public sector plays a prominent role regarding both overall healthcare expenditure (accounting for 56.7% in 2020) and the scale of infrastructure.

Healthcare startups are gradually becoming a topic of interest and priority, especially for the Digital Health market. 4 main segments within the Medtech industry are: Health Information Technology, Telemedicine, Consumer Health Electronics, and Healthcare Big Data & AI-based products and services. Currently, these areas are in the early stages of development.

3 most notable startup deals in the Medtech sector are

BuyMed, eDoctor, and Med247.
SaaS
Growth drivers for SaaS are the long-term strategic direction of the Government, a favorable legal corridor, positive indicators for the digital economy, and most importantly a change in the perception of businesses about the urgency of digital transformation, making it definitely become one of the most attractive areas for investors in 2022.
Market Overview
From little awareness of Saas (Software as a service) in 2019, from 2020 until now, the COVID-19 has triggered a significant increase in the attention of investors for the SaaS sector in Vietnam as the demand for digital transformation rises.

Factors contributing to SaaS growth are the needs for Work-from-home/safety measures, the needs for digital application in business operations. Additionally, favorable conditions to promote the digital transformation are created by the Vietnam Government, notably the National Digital Transformation Program by 2025 with an orientation towards 2030. 

There are 474 SaaS startups in Vietnam, and 2 most notable startup deals in the SaaS sector are Bizzi, and EI Industrial. Other "highlight" SaaS platforms are Base.vn – acquired by FPT and SlimCRM – the top finalists of software solutions in the category of Best SaaS Product for Small Business/SMEs.
In 2022, it is expected that the five above industries will continue to catch investors' attention in Vietnam, including Fintech, E-commerce, Edtech, Medtech and SaaS. For investors looking for a bigger investment picture in SEA's economy in 2021, 5 leading sectors are E-commerce, Online media, Online travel, Transport & Food and Financial service in addition to 2 nascent sectors that have accelerated rapidly due to COVID-19 including Edtech and Medtech (Google, Temasek and Bain & Co. 2021)
III. DRIVERS FOR VIETNAM'S STARTUP ECOSYSTEM
The drivers of Vietnam's emergence as a startup hub in Southeast Asia come from the consumers of Vietnam – a developing country and from the startups and investors themselves. These include:
FROM THE CONSUMERS:
Rising consumer spending on essential goods like food, health, etc. and online-buying:

Consumer Price Index 2020 – 168.6 (2010=100) (The World Bank Data n.d.). In Vietnam, according to the 2021 E-Commerce White Paper, the percentage of Internet users participating in online shopping has increased from 77% in 2019 to 88% in 2020.

A young intellectual population:

Vietnam is in the period of a golden population with a large workforce, rapidly absorbing the world's development progress, however, the population aging rate increases and the population (State Management Review 2020). Specifically, the labor force aged 15 and over is 50.5 million people –  Employees aged 15 and over are 49 million people

(General Statistics Office of Vietnam 2021)

. In terms of age group, the youth group in the age group of 25-30 years old always accounted for the highest proportion and increased fastest (41.4% in 2015 to 45.0% in 2018). While the group of young people aged 20-24 years old tended to decrease slightly in the period 2015 – 2018 (35.6% in 2015 to 32.7% in 2018), the group of young people aged 16-19 tended to decrease. a strong downward trend (23.0% in 2015 to 22.3% in 2018). 

High internet coverage:

There are 68.72 million internet users in Vietnam, and 154.4 million mobile connections in Vietnam in January 2021 (Datareportal 2021). Internet penetration in Vietnam reached 70.3%. Remarkably, the 4G network has covered 99.8% of the country. Meanwhile, the 5G network has been commercially tested by Viettel, VNPT and MobiFone operators in 16 provinces and cities, including Hanoi, Ho Chi Minh City, Bac Ninh, Bac Giang, Binh Phuoc, Da Nang, Thua Thien Hue, Hai Phong, Quang Ninh, Vinh Phuc, Dong Nai, Thai Nguyen, Can Tho, Binh Duong, Ben Tre, Ba Ria – Vung Tau. Vietnam aims to commercialize 5G by 2022, promote smartphone use and reduce the number of 2G phones to less than 5% (VNExpress

2021).
FROM THE STARTUP ECOSYSTEM:
Revenue growth

in digital sectors such as Fintech and E-commerce

Increasing interest

from foreign investment funds – particularly Japanese, Singaporean, and South Korean VC funds – and targeted government support.
Also, with the clear economy strategy from the Government, it is expected to see a prospected increase in the amount of money invested in Vietnam in 2022
In the last months of 2021, the socio-economic situation continues to have many positive changes, the economy prospers clearly, strengthening the confidence of people, businesses, friends and international partners. According to the resolution of the National Assembly, the Government has set tasks for 2022, in which the GDP growth rate should reach 6-6.5%; GDP per capita reached 3,900 USD; disbursing 100% of the public investment capital plan… National and international economic experts assessed that this task is completely feasible. Vietnam is among the countries with the highest vaccine coverage in the world. In addition, there is a policy of safe, flexible adaptation and effective disease control. These are considered important foundations for a quick economic recovery.
Forecasting Vietnam's economic growth in 2022, the Asian Development Bank (ADB) forecasts at 6.5%. ADB believes that exports will continue to be a growth engine with effective use of free trade agreements. Meanwhile, London-based HSBC said that Vietnam's economy could regain its GDP growth rate of 6.8% in 2022, mainly thanks to strong foreign investment again, focusing much into the field of green production and development.
Thanks to the resilience towards disturbance, sustained growth even in difficult times, promising economic recovery prospects, and the favorable consumption patterns, the amount of money invested is expected to grow in 2022 from both local and foreign investors.
REFERENCE LIST
Bao Dau Tu 2021, Lĩnh vực công nghệ giáo dục (edtech): Chờ ngày 'cất cánh', baodautu, viewed 8 March 2022, <https://baodautu.vn/linh-vuc-cong-nghe-giao-duc-edtech-cho-ngay-cat-canh-d152289.html>
CafeBiz 2021, Startup 'mua ngay, trả sau' Fundiin huy động thành công 1,8 triệu USD ở vòng hạt giống được dẫn dắt bởi Genesia Ventures, cafebiz.vn, viewed 21 March 2022, <https://cafebiz.vn/startup-mua-ngay-tra-sau-fundiin-huy-dong-thanh-cong-18-trieu-usd-o-vong-hat-giong-duoc-dan-dat-boi-genesia-ventures-20210913223843168.chn>. 
Dantri 2021, Nhiều startup công nghệ giáo dục Việt 'hút' mạnh vốn đầu tư, Báo điện tử Dân Trí, viewed 13 February 2022, <https://dantri.com.vn/kinh-doanh/nhieu-startup-cong-nghe-giao-duc-viet-hut-manh-von-dau-tu-20211004080809726.htm>.
Datareportal 2021, Digital in Vietnam: All the Statistics You Need in 2021, DataReportal – Global Digital Insights, viewed 13 February 2022, <https://datareportal.com/reports/digital-2021-vietnam#:~:text=There%20were%2068.72%20million%20internet>.
Do Ventures 2021, Vietnam Innovation & Tech Investment Report 2020, viewed 2 October 2022, <https://doventures.vc/assets/uploads/reports/download/vietnam-innovation-and-tech-investment-report-fy2020-1624893687.pdf>.
General Statistics Office of Vietnam 2021, Press conference to announce socio-economic statistics in the fourth quarter and 2021, General Statistics Office of Vietnam, viewed 14 February 2022, <https://www.gso.gov.vn/en/data-and-statistics/2022/01/press-conference-to-announce-socio-economic-statistics-in-the-fourth-quarter-and-2021/>.
Golden Gate Ventures 2021, SEA Startup Ecosystem 2.0, Golden Gate Ventures.
Google, Temasek and Bain & Company 2021, e-Conomy SEA 2021 report: Roaring 20s: the SEA Digital Decade, services.google.com, viewed 14 March 2022, <https://services.google.com/fh/files/misc/e_conomy_sea_2021_report.pdf>. 
Government Electronic Newspaper 2021, 'Chuyển Đổi Số Quốc Gia Năm 2022: Quyết Tâm Thực Hiện Các Nhiệm Vụ Để Tạo Bước Đột Phá', baochinhphu.vn, 10 December, viewed 10 February 2022, <https://baochinhphu.vn/chuyen-doi-so-quoc-gia-nam-2022-quyet-tam-thuc-hien-cac-nhiem-vu-de-tao-buoc-dot-pha-102305326.htm>.
MPI 2021, 'Ministry of Planning and Investment Portal', www.mpi.gov.vn, viewed 9 February 2022, <https://www.mpi.gov.vn/en/Pages/tinbai.aspx?idTin=52018>.
Nextrans Vietnam 2021, Vietnam Industry Report 2021, Nextrans Vietnam.
State Management Review 2020, 'Dân số trong độ tuổi thanh niên ở Việt Nam – Những vấn đề đặt ra', Quanlynhanuoc.vn, viewed 10 February 2022, <https://www.quanlynhanuoc.vn/2020/12/22/dan-so-trong-do-tuoi-thanh-nien-o-viet-nam-nhung-van-de-dat-ra>.
TopDev 2020, Thị trường cung cấp dịch vụ SaaS 2020 |Báo cáo Landscape 2020, TopDev, viewed 13 February 2022, <https://topdev.vn/blog/thi-truong-cung-cap-dich-vu-saas-landscape-2020/>.
TechFest Vietnam 2021, SlimCRM lọt top các giải pháp tại chung kết SaaS Awards 2021, techfest.vn, viewed 13 February 2022, <https://techfest.vn/tin-tuc/slimcrm-lot-top-cac-giai-phap-tai-chung-ket-saas-awards-2021>.
The World Bank Data n.d., Consumer price index (2010 = 100) – Vietnam | Data, data.worldbank.org, viewed 14 February 2022, <https://data.worldbank.org/indicator/FP.CPI.TOTL?end=2020&locations=VN&start=2018&view=chart>.
VNExpress 2021, 'Vietnamese startups draw $1.3 bln worth of investments in 2021 – VnExpress International', VnExpress International, 31 December, viewed 10 February 2022, <https://e.vnexpress.net/news/business/data-speaks/vietnamese-startups-draw-1-3-bln-worth-of-investments-in-2021-4410036.html>.
VNA 2022, 'Domestic Firms Urged to Engage More in Vietnamese Startups | Business | Vietnam+ (VietnamPlus)', VietnamPlus, 11 January, viewed 10 February 2022, <https://en.vietnamplus.vn/domestic-firms-urged-to-engage-more-in-vietnamese-startups/220513.vnp>.