LEAD THE CHANGE 2019 EXCHANGE TRIP IS COMING BACK
Lead The Change 2019 Exchange trip in Singapore
18th – 23th, November 2019
About program
Lead The Change 2019 Exchange trip is a six-day program in Singapore held by Lead The Change Community.
The program is supported by NUS Enterprise, Action Community for Entrepreneurship, Facebook, The Edge Learning Center, NUS Chu Thian Poh Community Leadership Center, NUS Asia Centre for Social Entrepreneurship & Philanthropy, LEVEL3/ Unilever,
Singapore Business Federation, UOB : United Overseas Bank…
Program theme:  Key Competencies for Industry 4.0
We believe that next generation of leaders need new competencies and skills fitting for the 21st century to be successful and to tackle the complex challenges.
Our framework designed by advanced study program and training of experts coming from Multinational Corporation which help young leaders to have adequate views about importance of skills in reality life and work. From that, they will apply these skills effectively into reality situations.
Activities
Young leaders will interact with expert facilitators, dedicated mentors, and inspirational speakers working in Multinational Corporations.
Our training topics relate to Design thinking, Cross-Cultural Collaboration, Entrepreneur thinking, Social Innovation, Social Entrepreneur, etc.
It will also include field visits to local cultural sites, as well as group projects that will culminate in presentations.
Program Agenda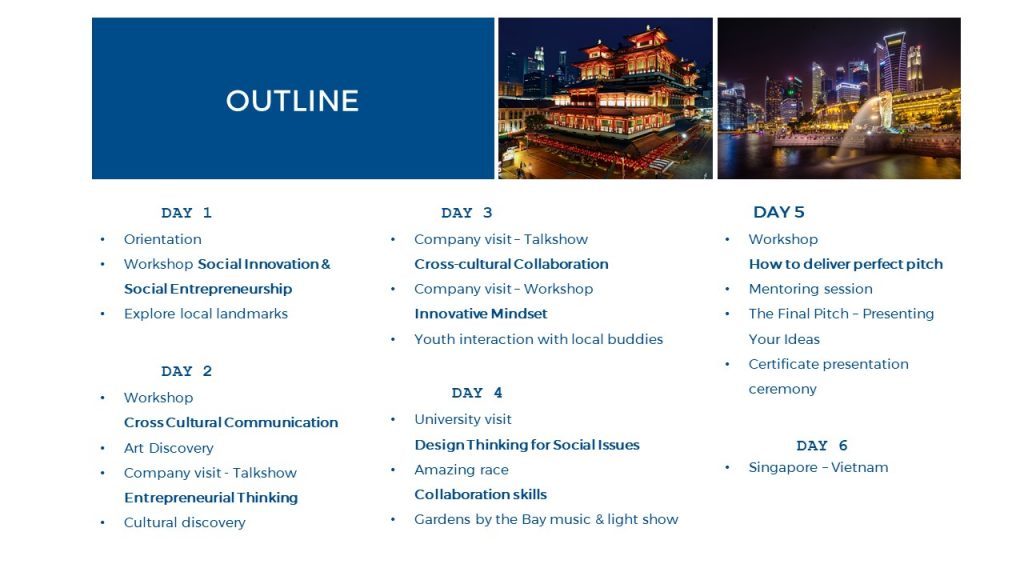 Watching 6 days of Lead The Change 2019 Exchange Trip in Singapore – July's journey
Eligibility Criteria
Young leaders: Aged 18-25 years
Interested in exchanging the global culture
Seek a better understanding of the ASEAN region
Seek to widen their perspectives
Passionate in making the impact to the social
Fluent in English
Selecting process
Step 1: Complete registration form
Step 2: Complete Application form (Organizers will send you after 3-5 days)
Step 3: Interview
Step 4: Information day
Step 5: Become young leader of the program
To be a young leader of Lead The Change 2019 Exchange Trip in Singapore – November!
Register here: Information form
Duration: November 18th- November 23th, 2019
Location: Singapore
For more information, please contact:
About Lead The Change Community
Lead The Change Community whose precursor is UEH Connected Community – the global community for the youth and startups.
Our vision: The number one place to introduce young talents to the entrepreneurial community, MNCs and startup community in Asia.
Our mission: 
Improve the mindset, necessary skills  of young generation in the changing world
Create a supportive entrepreneurial community
Collect comprehensive data on the excellent talents, mentors, trainers and speakers
Bring awareness and inspiration to the audience about startup culture and innovation